<![if !vml]>

<![endif]>
'Love

The

Art In Yourself Not Yourself In Art'
Konstantine Stanislavsky
<![if !vml]><![endif]>
<![if !vml]><![endif]>

     
~Welcome to OSCARS~
<![if !vml]>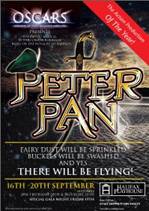 <![endif]>                                                                                                                       'Oscars Students with actress Zoe Lucker'
News Update
PETER PAN!
 16th – 20th September
Sponsored by The Carpet Centre, Halifax
Oscars is back! This time with 'Peter Pan' (the British Musical) by Piers Chater-Robinson, based on the famous book by J.M. Barrie. With a fantastic cast, including members of the national tour of Chitty Chitty Bang and the celebrated OTC one , a great script and toe tapping music, this a performance not to be missed. On Friday 19th September there will be  a Gala Charity Performance  in aid of The Great Ormond Street Hospital for Children. As this is World 'Speak like a Pirate Day', (I kid you not!), why not join the audience dressed as a pirate! So come on! Bring the family and travel with Peter and the Darling children to  Never Land. Yes there will be flying! Yes there will be swash and buckle! And yes there will be lashings of fairy dust!
Preview Night on Tuesday 20th , matinees on Thursday 18th and Saturday 2oth at
About Us
Oscars College of Performance Arts was founded in the year 2000 by Principal Paula Danholm RBTC and Assistant Principal Emmy Wilde BA Hons and has been at its current premises in the centre of Huddersfield since 2001.  We are within 10 minutes walking distance from the main station and five minutes from the local bus station.  Trains from and to Manchester and Leeds are frequent and there is a regular bus service to the centre of Leeds.
The college prides itself on its ability to bring out the best in its students and enable them to discover their full potential.  With the support of a caring, qualified staff, students are encouraged to build upon their strengths, have the courage to work upon their weaknesses and explore new horizons.  The knowledge they gain gives them the confidence to enter not just the entertainment industry but any walk of life.
The college incorporates its own agency in order to assist those wishing to enter upon a theatrical career.  It has to be stressed that the entertainment industry is fiercely competitive and the agency cannot guarantee any student employment.  However, with its emphasis on hard work, self-discipline and versatility, the assistance of the agency, Oscars does offer a realistic opportunity of entry into the profession.
Although the college is small, this in no way limits us.  We have links with recording studios, local theatres and national dance companies.  Our students have performed to great acclaim at the Edinburgh Fringe Festival, Broadway USA and on national television.  As well as artistic courses, the college operates two choirs, a professional dance group and a theatre company.  Private lessons are also offered in all disciplines.
Oscars has a warm, family atmosphere, where students are encouraged to help and support each other, not only through college life but also the traumas that some of the more sensitive students face in mainstream education.  Senior students take an interest in and work with the juniors.  Oscars becomes a way of life; a part – time school with a full time commitment.
General Aims
<![if !supportLists]>v <![endif]>To provide an environment where progress is rewarded as well as talent.
<![if !supportLists]>v <![endif]>To provide a caring, happy, enjoyable but disciplined environment where exploration and study of the Arts may flourish.
<![if !supportLists]>v <![endif]>To provide a stimulating artistic curriculum.
<![if !supportLists]>v <![endif]>To instil a work ethos that is necessary for survival in the entertainment industry and will assist a student in any chosen career.
<![if !vml]>
<![endif]>
<![if !supportLists]>v <![endif]>To develop confidence, social awareness and self-discipline.
<![if !supportLists]>v <![endif]>To develop a compassionate, caring member of society.
<![if !supportLists]>v <![endif]>To encourage an interest in all aspects of theatre and develop a professional attitude to work as well as perfecting the skills associated with the performing arts.
<![if !supportLists]>v <![endif]>To encourage commitment across all areas of college life regardless of strengths and weaknesses.
PATRONS
    ZOE LUCKER
                                                                                           JON CHRISTOS                      TONY WAYNE
BRIG. E.ROWLAND                    RICK GUARD                         ELLIS C. PIKE
     ROBERT CALVIN                                                                     MR. L. CHAPMAN
LISA HUGHES                                                                            PERRY HUGHES